Watch Video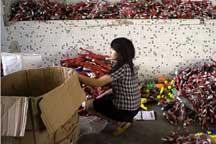 Play Video
As the US and European economies are still hurting from their debt crises, July's figures show China's trade surplus and export growth have, surprisingly, hit new highs. However, market observers are not all that thrilled about the long-term outlook.
China received unexpectedly strong export data for July. Despite economy slowdowns in the west, its trade surplus was the highest in two and a half years, and export growth was higher than expected. But, it wasn't because of strong external needs.
Mei Xinyu, from Ministry of Commerce, said, "Due to inflation, production costs are rising, so exports became more expensive. The quantity sold wasn't necessarily much higher than before, but the total value of exports was larger."
It is feared that China's export performance is lagging just one step behind the financial influence from abroad, and eventually, it will feel the pinch. In fact, the State Information Center predicts export growth for the second half of the year will drop 6 percent, from 24 percent in the previous half.
Textiles and electronics are among the sectors that are expected to have their profits further squeezed, as the costs of labor and raw materials have surged. To make matters worse, China's inflation rate, which is already the highest in three years, at 6.5 percent could fly higher, if the US starts another round of quantitative easing.
The US sold more than 100 billion dollars worth of exports to China last year, which helped the country create more than half a million jobs in the domestic market. Meanwhile in China, many export-oriented SMEs are struggling to survive, due to the constant appreciation of the yuan, as well as weak external demand.
Mei Xinyu, from Ministry of Commerce, said, "In such a climate, some SMEs will inevitably collapse, but others will live and grow. Chinese exports will suffer from the global debt crisis, although it won't be as bad as the 2008 financial crisis."
The State Council began drafting a series of supportive policies for SMEs in late July, but they won't come into effect until later this year. Until then, they have to rely on themselves, to survive, and thrive.
Related stories
Editor:Zhang Dan |Source: CNTV.CN