Watch Video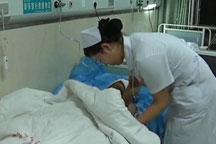 Play Video
One of 26 miners who were trapped for about 100 hours in a flooded pit in Qitaihe City in Northeast China's Heilongjiang province has been confirmed dead. Three survivors rescued on Saturday and being treated in hospital are in stable condition. One of them has injured his hands.
Doctors decide to carry out surgery immediately on Li Xuewei, one of the rescued miners, who has fractures to his right thumb and palm.
Chief physician of Qitaihe People's Hospital said, "Besides injuries in hands, the joints of his arms have contracted edema and necrosis due to the lalck of food and nutrition in the pit. so he needs treatment right away. "
Fortunately, the infection to his arms is not life threatening and he is able to talk. After one and half hours, the surgery was finished successfully.
Chief physician of Qitaihe People's Hospital said, "We have carried out treatment and got rid of all his infected tissue to prevent his condition from getting worse."
A doctor in Qitaihe People's Hospital said, "From what we can see so far, his lung is bruised, but there isn't any severe hematoma or bruises on his head." 11:58 PM, Li was finally able to return to the ward, finishing this life-changing day.
The flooding happened on August 23rd, when 45 miners were working in a pit at the Hengtai Coal Mining Company in Boli County in Qitaihe City. 19 miners managed to escape,leaving 26 trapped.
Related stories
Editor:Zhang Dan |Source: CNTV.CN