Watch Video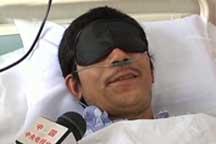 Play Video
Three mine workers have been rescued after being trapped for over four days. They were immediately sent to a local hospital for medical treatment. Jing Renguang is one of them. He spoke about the dark days trapped underground.
41 years old Jing Renguang is recovering stably. His work is to upload the coal into the mine wagon. The disaster happened when he was sitting near the wagon. He still remembers the moment when flood suddenly rushed in.
"I turned and ran in the tunnel, and tried to reach something above to get hold of, but the water soon reached my arms." Jing says the distance between the water surface and the tunnel roof was a head's height. They attempted to escape after the water level stabilized.
"Nothing to eat, we tried to stay still without moving and we drank water if we felt hungry." The water underground is mixed with cinders and shouldn't be drunk. "We had a bottle of water, and drank a little every time we felt thirsty."
Cold was another challenge to their determination to live. "We found six bags of sawdust and bark, and we put them together and covered our bodies with it when we felt cold." All they could do was hope to be rescued.
His watch showed they'd been trapped for 102 hours. But they felt relieved to find the water level was decreasing. They saw a glimmer of hope for life on Saturday evening.
"We saw a slot in the tunnel wall, and we tried to make it wider, I told them, people are coming, and I shouted, we're here. Rescuers came and said, it is great that you're alive." "We heard people applauding when we were rescued. But 22 workers are still trapped. I think they are possibly still alive."
Three rescued workers have begun to eat. Li Hua, head nurse of Qitaihe People's Hospital, said, "They have had some porridge and cakes. But they cannot eat too much at one time. "
Doctors say they can be reunited with their family members once their physical and physiological conditions are further stabilized.
Related stories
Editor:Zhang Dan |Source: CNTV.CN