Watch Video
Play Video
In Northeast China's Heilongjiang Province a rescue operation is ongoing to save 22 miners trapped in a flooded coal mine in Qitaihe City. Signs of life have been detected and survival goods have been sent underground, but they've not yet been found by the miners.
It's been a race against time.
This is the rescue capsule lowered underground Monday morning, carrying with it torches, alarms, as well as nutrient solutions.
Altogether, two capsules have been lowered 279 meters down to where the miners are believed to be trapped.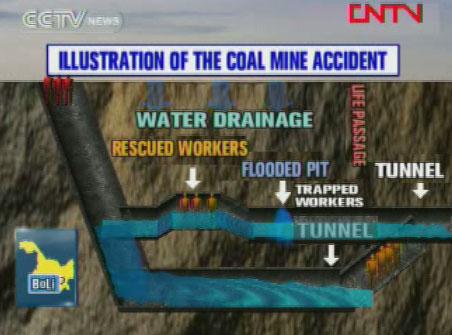 Illustration of the coal mine accident
A camera has also been sent underground.
One rescue worker said "The aim of putting the camera underground is to better observe the situation there and to check whether the rescue capsule is located in the right place. "
Back on the ground, rescue workers are checking the pictures from the camera and doing their best to detect any sign of life.
However, the results have been disappointing.
When the capsule comes out once again, the unwrapped tape indicates the goods were not taken away by trapped miners.
But rescue workers say they will not give up.
The ventilation system has been restored, successfully sending oxygen into the pit.
Sun Yongkui, Head of Rescue Crew said "As the pressure is very high underground, we have to send oxygen there at intervals."
Three survivors, are still being treated in hospital and are in stable condition.
All of them have now removed their eye shades and are finally able to see the familiar world once again.
Ying Renguang, Coal Mine Accident Survivor said "I am eager to see my workmates who are still trapped underground. They have been there for days, and I want to know whether they are OK."
The accident happened last Tuesday, when water flooded the coal mine where 45 miners were working underground. 19 of them escaped. One has been confirmed dead.
Although six days have passed, rescue workers say hopes have not faded of pulling out more survivors alive.
Editor:Xiong Qu |Source: CNTV.CN