Watch Video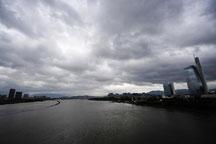 Play Video
Tyhoon Nanmadol slammed into Taiwan's southeast coast early Monday morning. Though reduced to a tropical storm, the weather system has still flooded low-lying areas and disrupted traffic.
Nanmadol ripped through the island to sweep across the Taiwan Strait late Monday afternoon. It's expected to make landfall in the mainland's eastern Fujian Province on Tuesday. No major damage has been reported. CCTV reporter Jie Bai describes the scene left in the path of the typhoon.
The island's south is experiencing the wrath of the first direct punch from a typhoon.
Levees along the coastal lines are under tremendous strains under the lashes of high waves.
The storm has dumped almost half a meter of rain in the mountainous south, putting Suao-Hualien Highway, a major artery connecting the island's north and south, under the threat of massive mudslides.
"It's raining really heavily along some sections of the road. And there are even rocks rolling off the mountains from time to time."
Local traffic police have blocked the highway and have been standing by, telling drivers to choose another route.
8,000 people in the region have been evacuated to higher ground.
Yilan county in the south is also among the most severely affected.
It nearly half a minute for this man to walk from one side of his car to the other side.
Around him, what used to be busy commercial districts are desolate, as local government warns businesses to close their doors earlier and local residents to stay at home.
Some homes located in low-lying areas have been inundated by flash flooding. Residents don't even know where to start cleaning up the mess.
Editor:Xiong Qu |Source: CNTV.CN