Watch Video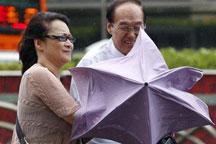 Play Video
Tropical storm Nanmadol has caused schools and businesses to close in Taiwan and roads in many counties are blocked. Although it has weakened, it's still moving slowly north-west with winds of 137 kilometers an hour, severely affecting the lives of local people.
Pingtung is among the worst battered areas. On the highway from Pingtung to Taipei, the dangers brought by the strong wind can be fatal. For some drivers, going back home safely is pure luck.
Driver in Pingtung, Taiwan said "I was driving through the fierce wind but did not make it through. A gust pushed my car beyond the lane to the other side of the highway and than toppled it down on the roadside. "
Due to the strong wind, recovering the vehicle took a long time. Luckily, the three passengers on board were all safe and uninjured.
In Taitung, passengers in another car were also caught in the wind. Their vehicle slid down the roadside ending up in a field. Darkness and rain delayed the rescue team. Two of the three passengers, although all soaked by the rain, were only slightly injured.
In Long Luan Wan, a tourist spot near Pingtung, hotels are shut down as the downpour of rain has caused flooding. The owner and guests in this hotel are relying on a digging machine to get out of the newly formed swamp. And even that may not guarantee their escape.
Hotel owner of Long Luanwan, Taiwan said "I was clearing up the hotel before getting out and thought we could make it on time. But the water rose much faster than I thought. "
Thanks to the carefully chosen site of the hotel, it remains above the flooding area. However, the hotel owner is losing half his profits.
At another famous tourism spot, Yang Ming Shan park, most people have cut their holidays and headed home to avoid being trapped by Nanmadol. But there are always some holidaymakers unwilling to lose the weekend. They are still going uphill, ignoring the wind and rain.
Nanmadol is gradually departing Taiwan and is expected to reach the mainland on Monday. China's National Marine Environmental Forecasting Center's yellow alert continues, the second-lowest level in China's four-level rainstorm alert system.
Editor:Xiong Qu |Source: CNTV.CN