Watch Video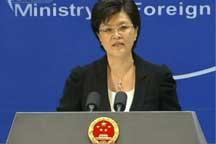 Play Video
Foreign Ministry spokeswoman Jiang Yu has expressed China's hope that Libya will resume stability as soon as possible. Jiang confirmed Libya's intention to "concretely abide by the existing bilateral treaties and agreements."
Jiang appreciates Libya's decision to stick to the one China policy and commitment to uphold all agreements signed with Beijing before the overthrow of Moammar Gaddafi. Jiang's comments come a day after China formally recognized the Transitional Council as the ruling authority of Libya.
Jiang Yu said, "We have made judgments based on the policy of noninterference in the internal affairs of Libya and the principle of respecting the Libyan people's choice. We appreciate that we would like to promote the stable transition and continuous development of China-Libya relations. "
Editor:Zhang Dan |Source: CNTV.CN