Watch Video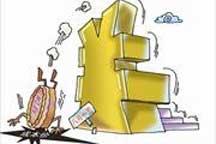 Play Video
The day after Mid-Autumn Festival, moon cakes are no where near the hot item they were just days ago. Discounts and recycling have become key words of the post-festival market for the snack. But for lovers of the traditional Chinese pastry, the combination of its sweetness and a good deal means they are still flying off the shelves.
"Buy one, get one free" is the most heard and seen slogan in supermarkets around China these days. For those true moon cake lovers, it is time to enjoy more and pay less. A resident in Jiangsu said, "We bought one box of moon cakes and got two boxes for free. We only paid around 60 yuan, while the original price was 188 yuan for one box.It doesn't matter if you bought it one week ahead of the festival or today. The quality and taste are all the same. But the price is much lower."
But most intend to avoid eating too much of this calorie-rich treat, instead opting for a bite for its symbolic meaning of family reunion. Once a must-have on the festival dinner table, moon cakes quickly become an unwanted "sweet burden" once the holiday is over. Vendors feel the need to get rid of all their stock as soon as the big day is over.
A supermarket manager said, "We might have a lot of moon cakes left unsold after the festival. The producers will discuss with us promotion measures to clear their storage at this point of time."
But unsold cakes remain an issue. According to the latest food safety regulations in China, the shelf life for moon cakes has been shortened to 20 days to discourage the usage of preservatives. Usually two or three days after the Mid-Autumn Day, unsold moon cakes past their expiry date will be returned to the manufacturers to be destroyed or to be recycled into forage use.
But sweet memories brought on by moon cakes and the holiday should not expire so quickly.In Beijing, nearly 200 young office workers follow tradition by making their very own moon cakes. For them, experiencing together rather than eating alone is a way to make the sweetness last longer.
A Beijing resident said, " "Do it yourself" is not the key purpose. I think it is all about cherishing the tradition and being creative. "
Pumpkin, nuts, pineapple, all sorts of moon cake ingredients are laid out on tables where computers usually sit. Fingers that are usually tapping away at keyboards are now busy with flour and cake moulds. Compared with the mass-produced moon cakes, the DIY experience that combines the traditional with the trendy is what really counts for China's younger generation.
Editor:Zhang Dan |Source: CNTV.CN