Watch Video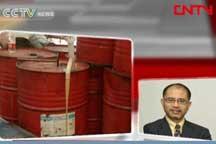 Play Video
News recap: Food safety issues have once again come under the spotlight. According to the Ministry of Public Security, a nationwide campaign against producing gutter cooking oil has been launched by the police and 32 people suspects have been arrested in a cross-province crackdown. Full story >>
Why so many food safety scandals keep popping up?
For more insight into the food safety scandal, we're joined on the line by Professor Liu Baocheng from the University of International Business and Economics.
Q1: In recent years, consumers have been horrified by food safety scandals. We've already seen tainted milk powder and additives such as melamine and trans-fats, and now re-used cooking oil. Why do you think such problems keep popping up? What goes wrong?
Q2: What can be done to make sure all food sold in the country is safe?
Related stories
Editor:Zhang Dan |Source: CNTV.CN