Watch Video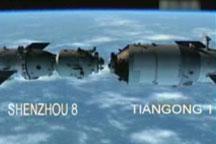 Play Video
China's spacecraft Shenzhou-8 is now ready to dock with China's space lab already orbiting the earth. The craft has changed orbit five times and is now on the right path to meet Tiangong-1 later today.
Far above the Earth... Shenzhou-8 is now ready to rendez-vous with Tiangong-1. The space lab is waiting for the spacecraft, orbiting the planet at an altitude of 343 kilometres.
Li Jian, Dep. Chief Engineer of Beijing Flight & Control Center said "We consider the need of an emergency re-entry when we decide the orbits the craft will follow. We have plenty of back-up plans so that Shenzhou-8 can return at any moment if anything goes wrong. This gives us a lot of control over the spacecraft."
To rendez-vous with the space lab, Shenzhou-8 needs to reach a near-circle orbit and come within only 52 kilometres from it. During the docking procedure, Shenzhou-8 will use its thrusters top to move backwards and sideways.
Li Jian said "These thrusters are crucial to docking. They give us full control of the
spacecraft. In case something goes wrong, the thrust reverser can push the craft away. And this can avoid a crash. That's a must."
Shenzhou-8 is now on schedule and the docking procedure will begin early Thursday morning. Both vehicles will fly together for 12 days. Then they will separate and the procedure will be tried for a second time. Practice makes perfect.
Editor:Xiong Qu |Source: CNTV.CN