Watch Video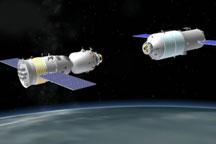 Play Video
Beijing's Aerospace Control Center says Shenzhou-8 spacecraft has successfully docked with the Tiangong-1 orbiting space lab. It means China becomes the third country in the world to master space docking technology.
A rendezvous in space. The silent dance between Shenzhou-8 and Tiangong-1 marks a giant leap for China's space program.
It was watched by Premier Wen Jiabao and other top officials, from an aerospace centre in Beijing. President Hu Jintao, in France for the G20 summit, sent a congratulatory message to the mission team.
The successful docking was announced by the chief commander of China's manned space engineering project, Chang Wanquan. Technicians burst into cheers as it became apparent that the docking had been a success.
Yang Liwei, deputy director of China Manned Space Program Office, said, "In terms of engineering, this has been another success. We have made huge progress in our space program. As an astronaut, I feel excited and encouraged and I'm looking forward to our work ahead. I want to thank all the people for their support."
Rendezvous and docking are essential to space exploration beyond earth's orbit. They're also vital for the construction of manned space stations, for resupplying, astronaut transfer and maintenance missions.
With plans underway for China's very own Space Station by 2020, the acquisition of docking technology is vital to the three-phase development strategy of the country's overall space program.
The Shenzhou-8 and Tiangong-1 will fly together for 12 days. After separating, they will come together again for another docking procedure.
Wu Ping, spokesperson for China Manned Space Program, said, "The successful docking of Shenzhou-8 and Tiangong-1 is a benchmark for China's space program. It's an important achievement in our current stage, and paves the way for future missions."
From Shenzhou-1, launched in 1999, to the latest Shenzhou-8, China is now a fully fledged in exploring the space.
Although the Shenzhou-8 is unmanned, it's equipped with devices that will help China make future improvements to spacecraft design and astronaut training. By successfully upgrading its technology, China is moving ever closer to developing its own manned space station.
Editor:Zhang Dan |Source: CNTV.CN