Watch Video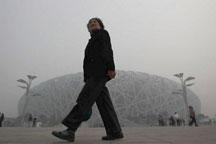 Play Video
Beijing saw one of its heaviest hazes last week with visibility greatly reduced. But as the weather clears up, the public wants the government to do more to monitor air quality in the city, and inform its residents about the details of air pollution. CCTV reporter Wang Yizhi went to meet one volunteer air inspector in Beijing who's only 12 years old.
The rain washes away the smog that has enveloped Beijing for the past week, but this boy's demand for better air quality didn't fade.
12-year-old Gao Jinglun has borrowed an air pollution monitoring device from an environmental NGO and he has been conducting measurements for the past month. He stood by a busy street for 30 minutes twice a day and keeps a record of the readings on the device.
Gao Jinglun said, "I saw from the news that the air quality index given by the local environment protection bureau is very different from the data measured by the US embassy in Beijing. But I trust my own data. All I want is for the air in Beijing to improve."
The disparity in the results comes from the fact that different organisations measure different things. China measures large particles, whilst at the US embassy, the main gauge for air pollution are small particles. Gao's use a device to monitor Particulate Matter 2.5.
PM 2.5 or Particulate Matter 2.5 means the type of dust which diameter is no larger than 2.5 micrometer. It's considered the main cause for haze. Such device costs about 30 thousand yuan, or 5 thousand USD. It might be a little costy for average families, but it is quite common in the environmental monitoring departments.
Instead of basing the air pollution index on PM2.5, Chinese regulations require the measurement of larger, but less-harmful-to-health dust called PM10. This is changing. The Ministry for Environmental Protection issued new guidelines at the beginning of last November, defining how to measure particles in the air.
But environmental activists believe this is not enough. They say PM2.5 should be the main gauge for air pollution, and more important still, it should be disclosed to the public.
Zhou Rong, campaigner of Climate & Energy, Greenpeace, said, This is very dangerous because the pollution exists whether you disclose it or not. The elderly and children, when they are walking outside, they should be informed that the air is dangerous and take some measures to protect themselves."
Zhou Rong also points out that Beijing is only one city, and that air pollution concerns a wider area. China's mid-west and eastern regions, where lots of coal is burnt, are also frequently subject to waves of smog.
She says the recent dispute on whether China's air pollution index is reasonable, has attracted public scrutiny as well as a demand for a solution.
Zhou Rong said, "Everybody noticed it and has put it on their agenda. Our whole economy relies on heavy industry. It's time for us to restructure, to focus on energy efficiency and move away from coal to more renewable energies. This is also an opportunity."
Gao Jinglun plans to write an essay on air quality with the help of his mother. But he says his own data isn't sufficient. If the government disclosed more information concerning air quality, he might find it easier to write.
Editor:Zhang Dan |Source: CNTV.CN