Watch Video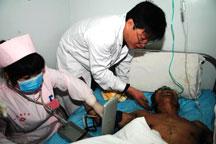 Play Video
In Henan, three miners rescued in the coal mine accident are in critical condition, while the names of the eight who died have been released. So what compensation will the victims receive?
Coal miner Shi Nianqiang was among the injured. He was one of the first pulled to safety on Saturday and rushed immediately to the local Coal Mine Hospital.
Shi Nianqiang said, "The accident occurred without any foreboding. All of a sudden, everything went black. The explosion was too loud to be heard."
Four teams were working underground at the time of explosion. They took turns to dig upwards with shovels. The trapped miners dug over two dozen meters themselves by the time rescuers reached them.
Shi Nianqiang said, "thought that the rescue team was sure to save us. So we were confident to dig upwards."
The rescue operation was tough as the tunnel was seriously damaged. So the crew had to make stretchers to bring the trapped miners to safety.
Dong Hongan, vice captain of Yima Coal Group Rescue Team, said, "A thin, small rescuer went down there first. He comforted and encouraged them."
At a press conference on Saturday, the chairman of Yima Coal Group, the company in charge of the shaft, said each family of eight victims will be given compensation of 400,000 yuan, as legally required.
Related stories
Editor:Zhang Dan |Source: CNTV.CN