Watch Video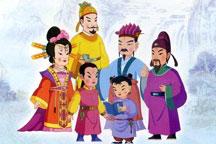 Play Video
Animation is loved by people of all ages, and across all boundaries. It often generates laughter, sometimes provokes thoughts or imparts knowledge.
One Beijing-based cartoon company is giving its cartoons a moral lift. Instead of being down-to-earth entertainment, their animation work condenses life's lessons into short 10-minute episodes. Although, the business has traveled a rough road, the company keeps finding ways to hold on.
Before every episode comes out, the Artistic Supervisor for Chinese Moral Cartoon, Yang Shufen, convenes the computer animation staff to hammer out the details.
The changes are both extensive and minute: from the use of a prop, to some sensitive language, to the way the characters convey their emotions.
Though an amateur to the techniques, Yang knows that a clean and good natured cartoon can eventually win over the young hearts.
Yang Shufen said, "When I was teaching in middle school, I found some students had a tendency toward violence. They hit other students, talked back to parents and refused to listen to teachers. And they learned some of this behavior from bad cartoons. Good cartoons, on the other hand, have an uplifting effect on children."
The project revives traditional culture and values. Most characters are actual figures in history, imparting such traditional virtues as filial piety, loyalty, righteousness, clean governance and more. The vivid storytelling diminishes the preachy tone and gives the show an entertaining makeover.
But a good cartoon does not necessarily equate to good profits. The Miaoyin Cartoon Company, who brought the series to the small screen, has twice faced bankruptcy, but its General Manager Dong Zhigang tenaciously sticks to the cause.
Dong Zhigang said, "We have faced two times of crisis, once in 2005 and once earlier this year. Many employees had to leave. In the past nine years, I often didn't know where the next meal was coming from, but every time I would hold on. Other companies might have catered to the taste of the audience, but we follow our hearts. So I called on all those who stayed with us to witness miracles together."
The company's miraculous survival this time can be attributed to the generosity of Hou Yushe, General Manager of Erdos-based Donglian TV and Film. Hou has so far invested over 20 million yuan in production and marketing. The long-term plan is a whopping 100 million for 1080 episodes.
Hou Yushe said, "Making moral cartoons is more like doing a good deed. You won't get your money returned in the short term. But I hope the series would supplement what's lacking from the textbooks and teach children to become men of integrity."
Editor:Zhang Dan |Source: CNTV.CN