Watch Video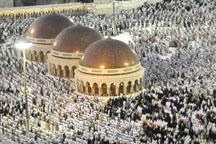 Play Video
More than two million Muslims have begun massing on Mount Ara-fat in Saudi Arabia and its surrounding plain, marking the peak day of the largest annual pilgrimage, the Hajj.
Muslims began approaching Mount Ara-fat early Sunday morning. The path to the summit was an ocean of white, because of the pilgrims' clothing. The Saudi Arabian government goes to great lengths to ensure safety.
From dawn until sunset on the day, pilgrims stand in earnest supplication, praying for God's abundant forgiveness. Muslims who do not make the Hajj often spend the day in fasting and devotion.
Pilgrims head to the Grand Mosque in Mecca, Saudi Arabia, Nov. 3, 2011. Over 2.5 million
Muslim pilgrims began their five-day Hajj here on Thursday night. The Mecca pilgrimage,
also known as the Hajj, is a Muslim religious tradition that specifies that all able-bodied Muslims who can afford to travel to Saudi Arabia must visit Mecca at least once in their
lives. (Xinhua/Wang Bo)
Hundreds of thousands of pilgrims gather at the Grand Mosque in Mecca, Saudi Arabia, Nov.
3, 2011. Over 2.5 million Muslim pilgrims began their five-day Hajj here on Thursday night. The Mecca pilgrimage, also known as the Hajj, is a Muslim religious tradition that
specifies that all able-bodied Muslims who can afford to travel to Saudi Arabia must visit
Mecca at least once in their lives. (Xinhua/Wang Bo)
Hundreds of thousands of pilgrims gather at the Grand Mosque in Mecca, Saudi Arabia, Nov.
3, 2011. Over 2.5 million Muslim pilgrims began their five-day Hajj here on Thursday night. The Mecca pilgrimage, also known as the Hajj, is a Muslim religious tradition that
specifies that all able-bodied Muslims who can afford to travel to Saudi Arabia must visit
Mecca at least once in their lives. (Xinhua/Wang Bo)
Hundreds of thousands of pilgrims gather at the Grand Mosque in Mecca, Saudi Arabia, Nov.
3, 2011. Over 2.5 million Muslim pilgrims began their five-day Hajj here on Thursday night. The Mecca pilgrimage, also known as the Hajj, is a Muslim religious tradition that
specifies that all able-bodied Muslims who can afford to travel to Saudi Arabia must visit
Mecca at least once in their lives. (Xinhua/Wang Bo)
A pilgrim reads the Koran at the Grand Mosque in Mecca, Saudi Arabia, Nov. 3, 2011. Over
2.5 million Muslim pilgrims began their five-day Hajj here on Thursday night. The Mecca
pilgrimage, also known as the Hajj, is a Muslim religious tradition that specifies that all able-bodied Muslims who can afford to travel to Saudi Arabia must visit Mecca at least once in their lives. (Xinhua/Wang Bo)
Editor:Zhang Dan |Source: CNTV.CN