The officials are now announcing the successful second docking of China's spacecraft Shenzhou-8 and the space lab module, Tiangong-1.
Staff member are now celebrating this moment, bursting into hugs and applause as the spacecraft entering the orbit as designed.
The separating and and re-docking last about half an hour. Staff member will continue tracking the combination to check whether everything is working as planned.
For this docking, scientists have simulated more than one thousand dockings and almost six hundred and fifty separatings on the ground.
The interior of both the Shenzhou-8 and Tiangong-1 is an actual environment in which astronauts can live and work.
Although the Shenzhou-8 is unmanned, it is equipped with devices to record images and data that will help China make improvements to its spacecraft design and astronauts training.
The graphics shows the procedure of the second docking between Shenzhou-8 spacecraft and Tiangong-1 space lab module on Nov. 14, 2011.(Xinhua/Lu Zhe)
The docking system is developed by Chinese. It is almost compatible with the docking mechanism and structure used on the International Space Station and space shuttle. Only minor adjustment are needed in docking missions. So future international cooperation in space project would be convenient in light of that.
Tiangong-1 will wait for two more spacecraft, Shenzhou-9 and Shenzhou-10 to conduct further missions in 2012. One of the mission will be manned to conduct manual docking. Two female astronauts are widely believed to be on the active duty roster to carry out the missions.
After that, China will begin to build a space lab and space station, with its first manned space station to be put in place around 2020.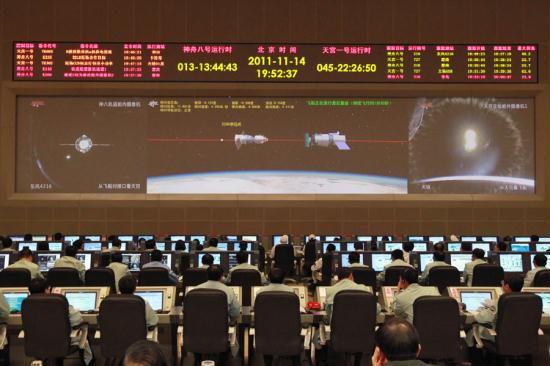 Staff members work in the Beijing Aerospace Flight Control Center in Beijing, capital of China, Nov. 14, 2011. China's Shenzhou-8 unmanned spacecraft successfully re-docked with the Tiangong-1, a module of the country's planned space lab on Monday. (Xinhua/Wang Jianmin)
Tiangong-1 and Shenzhou-8 began to adjust their positions in the orbit about three hundred and forty kilometres above the Earth on Sunday.
Let's now takes a look at some of the highlight of this thirty-minute separating-and-docking process.
The two separated as planned after 12 days of flying together.
They retreat from each other and hold to their positions as they are one hundred and forty meters away from each other.
Seven minutes later, they begin to draw closer and remain thirty meters away from each other.
Four minutes later, the dockings rings have attached to each other.
The hooks fit in and get tightened six minutes later. The mission is declared a success.
China completes second space docking test >>
Chinese spacecraft Shenzhou-8 re-docks with prototype space lab Tiangong-1 >>
Chinese spacecraft Shenzhou-8 disengages from space lab module Tiangong-1 >>