Watch Video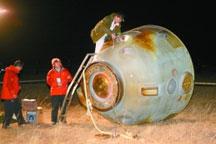 Play Video
China's Shenzhou 8 mission has been formally declared a complete success. The spaceship returned to earth on Thursday, having completed two space docking procedures with the Tiangong-1 orbiting space lab. On Friday, a joint press conference was held by China's Manned Space Engineering Office -- and despite the mood of celebration, officials were already looking towards the future of China's space program - CCTV reporter Liu Haining reports.
Shortly after 7pm local time on Thursday, Shenzhou-8 sped through the upper atmosphere, and landed according to plan in Inner Mongolia.
Speaking to domestic and international media at Friday morning's press conference, spokesperson for China's Manned Space Engineering Office, Wang Zhaoyao, hailed Shenzhou-8 as 'a complete success'.
Wang Zhaoyao, Deputy Director of China Manned Space Engineering Office, said, "The mission to rendezvous and dock Tiangong-1 and Shenzhou-8 has fully realized the goal to carry out an accurate entry into orbit, precise rendezvous and docking, a stable assembly operation, and a safe return."
During the mission, Shenzhou-8 and Tiangong-1 carried out series of scientific experiments. 17 tests to examine the affects of space on various lifeforms -- including a number of small fishes -- were jointly developed by German and Chinese scientists. The experiments were recovered safely from the module after it landed.
Despite the success, and the celebratory mood, Wang says China's space career still has a long way to go.
"We still can't claim that China's manned space technology has yet matured. More than 40 years ago, Russia and the US sent men into space and started building space labs and stations. Compared to them, we're well behind. The international space structure has been formed gradually. One or two successful test projects will not change that structure." Wang Zhaoyao said.
The safe return of Shenzhou-8 marks the end of the 49-day mission. Launched respectively on September 29th and November 1st, Tiangong-1 and Shenzhou-8 carried out two space dockings -- on Nov 3rd and again on November 14th.
Wang says a full analysis of the mission is underway and will finish by the end of the year. Only then can detailed future space plans be made.
"By welcoming Shenzhou 8 back home, China is one step forward to have its own manned space station around 2020. Next year, Shenzhou 9 and 10 will be launched into the space to meet Tiangong 1. The journey has just started, and there is a long way to go. Liu Haining, CCTV, Beijing."
Editor:Zheng Limin |Source: CNTV.CN