Watch Video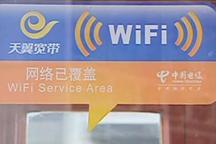 Play Video
In Shanghai, China Telecom's branch in Shanghai, has upped the speed of its broadband network. For Mrs. Zhang, surfing the internet has gotten a lot faster.

Whether its downloading films, tv shows, or playing games, the faster connection is being welcomed by many in her family.
Zhang said: "Yesterday, I found Internet speeds had doubled. It is now much faster to download films and games. My kids are very happy with the change."
It's the second time that China Telecom's Shanghai Branch has increased the network speed.
And this time, the upgrade is free.
Jin Jianfeng, deputy manager of China Telecom Shanghai Branch's Marketing Department, said: "Broadband users don't have to do anything else. We managed to upgrade the network at the backstage."
Currently, some communities in Shanghai are not connected to the broadband network via fibre optic cables.
Shanghai Telecom says in the near future, those users will also benefit from the network upgrade when they get access to the fibre optic network.
Jin Jianfeng said: "We won't charge more if the ADSL customers decide to make a change. The difference is the increased network speed."
Over the past two years, 26 billion yuan has been invested to install fibre optic cables in Shanghai.
So far, more than a million users have benefited from the speed upgrade.
Shanghai Telecom says it's committed to completing the construction of a reliable information infrastructure system during its "Twelfth Five-year Plan" (2011-2015).
At present, Shanghai Telecom has over 3 million broadband subscribers, and 800-thousand FTTH users.
To make things even more faster, a next-generation city-wide network, consisting of upgraded broadband, Wi-Fi and 3G is being built, which will help users enjoy various services via the upgraded network.
Related stories
Editor:Zhang Rui |Source: CNTV.CN