Watch Video
Play Video
On the housing market, sales are cooling not only in Shanghai, but in other cities around China.
Housing prices have fallen sharply.
The National Bureau of Statistics shows China's home prices dropped in more than thirty cities last month. That's more than a dozen cities added to the list since September.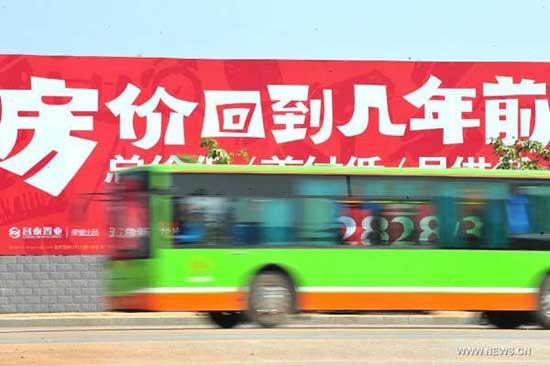 A bus passes by an advertisement of a real estate project in Nanning, capital of
south China's Guangxi Zhuang Autonomous Region, Nov. 18, 2011. In October, 34 cities
in a statistical pool of 70 major cities saw declines in new home prices from
September, compared with 17 in September, the National Bureau of Statistics (NBS)
said Friday. New home prices in 20 cities stayed flat last month from September,
according to an NBS statement on its website. (Xinhua/Huang Xiaobang)
The southern city of Guangzhou has seen plenty of price cuts.
Qin Qing, Manager of Real Estate Agency in Guangzhou, said: "13,000 yuan per square meter was the original set price, but now it has fallen to 9,800 yuan."
Beijing has seen a similar situation. Many new buildings are offering specials to attract customers in the midst of gloomy sales. So far, there's been little response.
As the downward trend spreads to second and third tier cities, housing prices nationwide are expected to fall.
Many real estate agencies in Zhejiang Province have been shut down due to the slump.
One staff from Zhejiang Real Estate Agency said: "It's not a good season for selling houses. Housing prices have gone down sharply."
As the government curbs property expansion, agencies are using promotion models like group-buying discounts, interior decoration, and "try it before you buy it" deals.
Premier Wen Jiabao said this month the government won't relax property curbs. They have raised down-payment and mortgage requirements, and imposed home purchase restrictions in about forty cities to avoid the bubble. Analysts expect the government to maintain its housing measures, and loosen monetary policy gradually.
Photo taken on Nov. 13, 2011 shows buildings on construction in Qionghai, south
China's Hainan Province. (Xinhua/Meng Zhongde
Editor:Zhang Rui |Source: CNTV.CN