Watch Video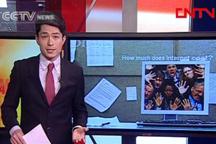 Play Video
For more on Internet access in China, we are joined in the studio by our reporter Li Kefu.
Q1: The Internet today is at the heart of so many of our activities. But how did it develop in China?
Answer: Well, it's not new. The first Internet connection was established in 1987 between China and Germany. 20 years on, China is the number 1 Internet market in the world! According to the China Internet Network Information Center there are now 485 million Internet users, and that should jump to 718 million within the next two years. So this means that half of the world's Internet users live here in China. However, surprisingly Internet access isn't that good and it's expensive. A report by a US-based network research company shows that average internet speed in China is about 245 Kilobits per second, far lower that the world's average of 590 Kilobits per second. They are multiple reasons behind this. The faster fiber optic network doesn't extend to every household and there's also the so-called Internet firewall which could explain slower speeds.
Q2: Ok, but these are abstract numbers. What does it actually mean for Chinese Internet users?
Answer: Well. To give a simple example: In South Korea, it can take just 30 seconds to download a full length feature movie. Here in China, it can take days. But I must say, the issue isn't just about speed. The Internet in China is rather expensive. Most of the middle-class can afford it, but it's not cheap. In 2010, the average costs of Chinese broadband was almost 7 US dollars for one Megabits per second. That's 18 times higher than in South Korea, costing only 37 cents. In Japan, it's even cheaper, costing only 13 cents. The current monopoly on Internet access can explain this and most industry experts agree that broadband access would drop by 30 to 40 percent if China's Internet market was open to competition.
Related stories
Editor:Zhang Rui |Source: CNTV.CN