Watch Video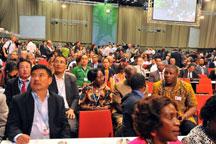 Play Video
In Durban, international climate negotiators are at odds on how to raise billions of dollars to help poor countries cope with global warming. China and some developing countries are calling the developed nations to shoulder more responsibility
Arctic sea ice has shrunk to a record-low. Participants at the UN climate conference are trying to slow down the process. The two-week conference is to finalize a plan on managing climate finances, due to scale up to 100 billion US dollars annually by 2020.
But negotiations are never easy when it comes to money. China and some other developing countries say it should be those industrialized countries paying most of the money, since they should shoulder more responsibility regarding global warming.
Li Yanduan, Chinese representative, said, "Those developed countries have emitted seventy or eighty percent of the carbon dioxide in the air. There are uncontrolled emissions in their process of industrialization during the past two hundred years. They should shoulder their historical responsibilities. "
According to developing countries, things now are not getting better, and poor countries are the victims.
Li Yanduan, Chinese representative, said, "In some developed countries, the average per capita emission of greenhouse gas is about ten tons each year, compared to two tons or even less in China and other developing countries. "
A Kenyan representative said, "Economy is also affected because Kenya depends on tourism. And because of the drought period we had, not so many tourists are coming to the country. So that directly affected our economy."
However, the current downturn has left European countries and the United States in deep financial trouble. They are not willing to give the money. There have been reports that Canada has decided to drop out of the Kyoto Protocol, and Australia and Japan also indicated they won't be signing up for the pact's second commitment period.
Negotiations are hard, but as the environment takes its revenge, there's little time left to refuse the responsibility.
Related stories
Editor:Zhang Dan |Source: CNTV.CN