Watch Video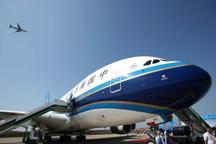 Play Video
The Civil Aviation Administration of China has said China will continue to open its airspace over the next few years, and hopes to completely open all its low-altitude airspace by 2015. If this does move ahead, it would provide a favorable environment for the development of the private aviation industry.
Modern, spacious and fast. With a maximum cruising speed of 600 kilometers per hour, the Primus 150 will become China's fastest private business jet. It will be launched next year.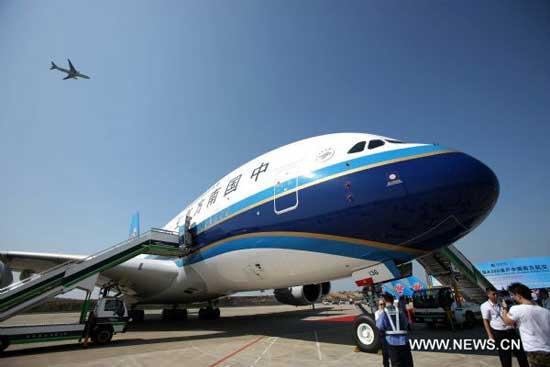 The A380 jumbo arrives at Guangzhou Baiyun International Airport in Guangzhou, south
China's Guangdong Province, Oct. 17, 2011. The A380 plane of China Southern Airlines
completed its first Beijing-Guangzhou flight Monday. (Xinhua/Li Fangyu)
Xiong Xianpeng from China Aviation Industry General Aircraft Company said: "The cabin is quite spacious. And it's equipped with cooling and heating systems. There's oxygen to guarantee passengers' safety, advanced aviation systems, it's comfortable, and the interior fittings are similar to those on large aeroplanes."
The China Aviation Industry General Aircraft Company, has recently bought the US company Cirrus Industries Incorporation. It's the world's second largest general aviation aircraft manufacturer. This purchase should greatly enhance China's production capacity and help them meet the surging demand for small aircraft.
Han Jianchang from China Aviation Industry General Aircraft Company said: "We are going to produce a chain of planes over the next five years, including small business jet, private jets, propeller planes and seaplanes."
But the market still faces serious challenges, mostly due to complicated administrative procedures. For the time-being, the industry hopes these will be made more flexible, and adapted to the needs of modern business people.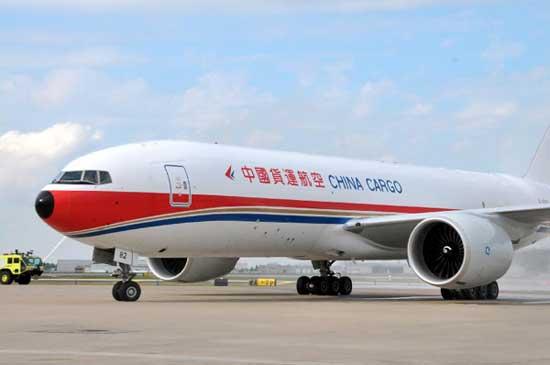 A cargo flight from China lands at Lambert International Airport in St. Louis, the
United States, Sept. 23, 2011. The first cargo flight from China which departed from
Shanghai landed in Missouri state's St. Louis Lambert International Airport Friday,
marking the establishment of a link between China's financial hub and the U.S.
heartlands. (Xinhua/Zhang Baoping)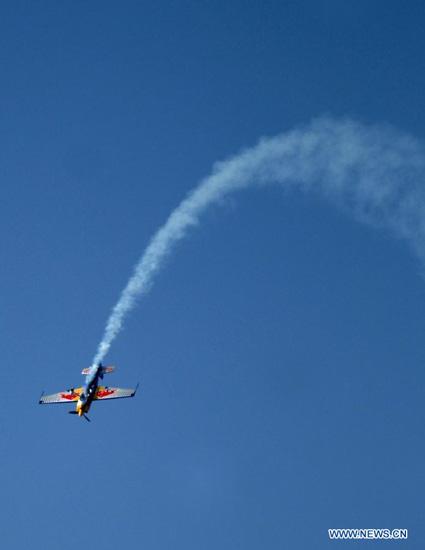 A plane performs aerial acrobatics during the 2011 China International
General Aviation Convention in Pucheng, northwest China's Shaanxi
Province, Oct. 15, 2011. (Xinhua/Li Yibo)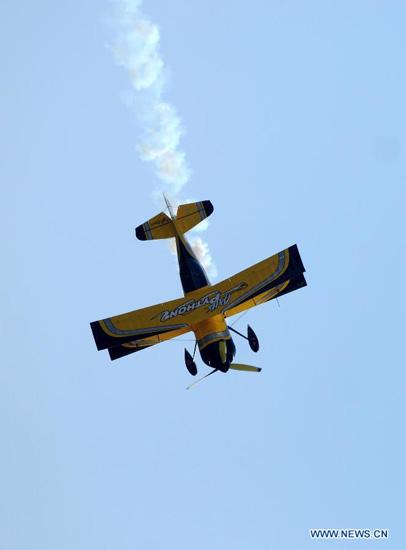 Swedish plane performs aerial acrobatics during the 2011 China
International General Aviation Convention in Pucheng, northwest
China's Shaanxi Province, Oct. 15, 2011. (Xinhua/Li Yibo)
Related stories
Editor:Zhang Rui |Source: CNTV.CN