Watch Video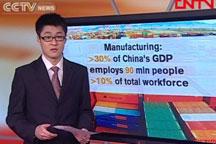 Play Video
For more on Chinese industries' development after accession to the WTO, we are joined in the studio by my colleague Wu Haojun.
Q1: Can you tell us more about the impact China's accession to the WTO had on Chinese industries? Which sectors of the economy benefited most?
A1: China is now dubbed "The world's factory", and the statistics leave little doubt that the manufacturing sector has experienced the most growth since the country's accession to the WTO. China's production volume in over 100 categories of products now ranks first in the world. Manufacturing also continues to weigh in at over 30% of the nation's GDP. The sector now employs about 90 million people. That's more than 10% of the country's total workforce. But, when we look at what's behind the success of China's manufacturing sector, the reduced tariffs and cheap labor certainly helped, but it hasn't been an easy journey on the way to becoming one of the world's largest exporters. The period since joining the WTO has been one of tough competition and quick learning. Let's take China's auto industry as an example. Before joining the WTO, people in China were worried that the country's auto industry would be crushed by floods of imported cars following the accession. And domestic brands indeed saw fierce competition from abroad afterwards. Some couldn't survive the competition but others learned and transformed themselves. In 2001, national sales of cars were just 800,000 units. Five years later in 2006, annual auto production exceeded seven million units, and sales reached four million units. China has now become the world's largest auto market and the world's largest producer. So, manufacturing is certainly the sector that has seen the greatest benefits from China joining the WTO, but membership also brought its share of challenges along with it.
Related stories
Editor:Zhang Dan |Source: CNTV.CN