Watch Video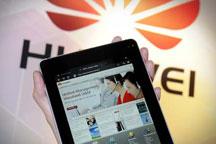 Play Video
Founded in 1987, Huawei Technologies has developed into the largest manufacturer of telecommunications equipment in China, and the second largest in the world. As the high-tech company speeds up expansion, its US venture is encountering more hurdles than anywhere else in the world.
In the global village, a cell phone and internet service have become an essential part of modern life. Huawei, once a low-profile Shenzhen-based telecommunications equipment and networking supplier, has become a major player in the global telecom industry over the past 20 year.
Huawei has become the latest target of a US investigation on whether its
expansion in the US poses a security threat, a move Beijing says is a
gimmick ahead of elections. (File Photo/Xinhua)
But although this multi-national company is operating in more than 140 countries, no where does it encounter so many difficulties as in the US market. Last month, the U.S. House of Representative committee on intelligence launched an investigation into the company, regarding a possible security threat.
Huawei's case may also reflect a failure by the U.S to adjust to new global circumstances. As an emerging economy, China's manufacturing power has moved way beyond just making garments, toys and shoes. It's now capable of holding its own in more complicated products like high-tech goods. However, experts think that fact may take some time for Americans to accept.
US House Intelligence Committee on Thursday launched a probe into Huawei
Technologies Co and ZTE Corp, two Chinese telecom firms operating in US markets.
[YNET.com]
In an increasingly globalize world, overseas investment has become the norm. But Huawei was singled out as a target by the US over security concerns. Many Chinese scholars view this as just a cloak for protectionism, and another excuse to undermine Chinese companies in the US domestic market.
Meanwhile, Huawei is defending its position, pointing out that the company's integrity has been proven worldwide, and their technology been used by 45 of the world's top 50 operators across the globe without security incident.
Related stories
Editor:Zhang Dan |Source: CNTV.CN