Watch Video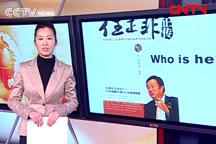 Play Video
Regarding to Huawei's case, we are joined by Lv Yao today.
Q1: Can you tell us more about the controversy surrounding Huawei?
A1: To my understanding Huawei has been a very low-profile company ever since its establishment back in the 1980s in Shenzhen, with a very small amount of money. Huawei established their US venture back in early 2000. However, there has been concern about the company's founder, a very low-key figure as well, Mr. Ren Zhengfei. He was in the military, and his background has raised some talking points. And Huawei released an open letter, pointing out that Mr. Ren joined China's military's Engineering Corps as a soldier for nine years to build a Chemical Fiber Factory. Then he was promoted step by step, but he played a professional role without any military rank. Huawei stated earlier that Mr. Ren is just one of many CEOs around the world who have served in the military. And the logic here, is like a CEO could be a West Point or Naval Academy graduate. It just happened that a retired military officer started up a company, and that company has done pretty well, turning out to be number two in the telecom industry. Some military experience on the resume does not necessarily mean a current tie to the military.
Q2: And can you tell us what the overall investment picture for Chinese companies is in the United States?
A: The picture still looks promising. A comprehensive study released by a US-based non-profit organization Asia Society shows, in 2010, Chinese investment in the US was over 5 billion US dollars. From 2003 to 2010, industrial machinery, equipment, and tools; electronic equipment, and energy sectors were the top three industries in terms of direct investment expenses. In fact, Chinese businesses have already established operations in at least 35 of the 50 states in the U.S. Texas has attracted the biggest Chinese cash investment, followed by New York state, Virginia, Illinois and California. But the state with the broadest portfolio of businesses is California, these projects include logistics, manufacturing, modern services, and retail. For instance, China Telecom, just opened an Internet Data Center in Los Angeles back in October this year. And Chinese electric vehicle manufacturer BYD, officially opened its North American headquarters in Los Angeles. in October this year as well.
Related stories
Editor:Zhang Dan |Source: CNTV.CN