Watch Video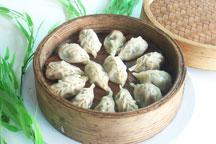 Play Video
20 years ago, Shaxian County in eastern Fujian Province, was a place where local residents worried about making their livelihoods meet. Now the name has became a trade mark, known across the country. Their secret weapon is -- selling local delicacy.
"I heard the dishes are Fujian specialty, so I've come to have a taste."
Cheap, convenient and bursting with local colours - Now Shanxian Delicacies restaurants can be found all over the country. And the yearly income of all the restaurants in the country reaches 5 billion yuan. That is 10% of the GDP of Sanming City where Shaxian is located. An official in charge of the development of Shaxian Delicacies say the low price contributes to their popularity.
Zheng Xingjing, director of Fujian Shaxian Delicacies Development Office, said, "Our target is to let the customers eat full and well with less than 5 yuan."
They may be cheap, but what really helps their growth is support from the government. In the early 1990s, Shaxian Country government encouraged local officials to run delicacy businesses. The aim was to solve unemployment problems and boost the local economy.
In 1998, more than 3 thousand Shaxian Delicacies restaurants were running in Fujian Province. But it was not as effective at bringing about economic recovery as hoped.
Deng Desen, shop owner of Shaxian Delicacies, said, "There were a few Shaxian Delicacies in Fuzhou at the beginning, but after several years, more and more restaurants opened here. Customers were scattered and getting fewer."
Mr. Deng was among the first group of people to run Shaxian Delicacies in the early 90s. If the restaurants were fish, then there were too many fish in one pool. And they were facing one problem: to move or to shut down. Mr. Deng chose to move.
Deng Desen, shop owner of Shaxian Delicacies, said, "My brother opened a shop in Shanghai, but only few customers knew what we were selling in our shops."
Shaxian Delicacies didn't hit Shanghai people's spot. Shaxian government decided to step up the government-run business. Since 1997, Shaxian County has held a "local delicacies culture festival" yearly, and introduced its local dishes elsewhere, including Beijing, Shanghai, Xi'an, Changsha, and Wuxi. In 2010, they brought it to Taiwan and to Macao this year.
Meanwhile, restaurant owners are busy creating new dishes to cater to local people's taste. Mr. Zhou has about 40 Shaxian Delicacies restaurants in Hangzhou, captial of east China's Zhejiang province.
Zhou Licheng, chief of Shaxian County Delicacies Chain in Hangzhou, said, "We add new dishes like sirloin rice, chicken rice and change some flavor so that Hangzhou people will like it more. "
Zhou Licheng started a managing company last year to run his restaurant. He plans to organize them as a chain. To make the Shaxian Delicacies a national name is also the goal of Shaxian County government. To achieve this, the Association of Shaxian Delicacies unified the trademark of more than 4 thousand restaurants in the country and set offices in 25 cities to organize and manage the business.
A large amount of human resources were also put into the businesses. Figures show that nearly 50 thousand residents left home to run Shaxian Delicacies restaurants. That amounts to 55% of local labour resources. Shaxian County government is determined to keep its local delicacies alive in the public eye.
Studio interview: What should SMEs learn from Shaxian experience?
Many people are surprised to see a small food chain like Shaxian county delicacies expand at such a speed, what can other small and medium-sized companies learn from its experience? Full story >>
Editor:Zhang Dan |Source: CNTV.CN