Watch Video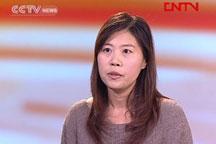 Play Video
For more on the issue, we are joined in the studio by Zhou Rong. She is a Climate Change and Energy Campaigner for the NGO Green Peace in Beijing.
Q1: Releasing PM2.5 data ahead of schedule is certainly a significant and applaudable move by the city of Guangzhou. What effects will it have on the rest of the country in terms of air quality monitoring and environmental protection?
Q2: What do you think are the biggest hurdles when it comes to publishing PM2.5 data nationwide?
Background
Guangzhou to release PM 2.5 data ahead of schedule
Following widespread calls for the government to provide more information on pollution, and particularly air quality in the country's sprawling metropolises, the Ministry of Environmental Protection has vowed to revise its air quality appraisal system by 2016. But it turns out China's third largest city, Guangzhou, capital of the southern Guangdong province, is already steps ahead of the pack. Read more>>
Related stories
Editor:Shi Jierui |Source: CNTV