Watch Video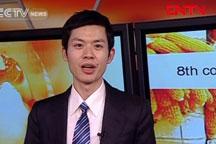 Play Video
For more on the issue, we are now joined in the studio by Nie Jia.
Q1: Can you give us some more background information on the meeting?
A1: Sure. I think we need to look at the context of this year's meeting. First, this year marks the eighth consecutive year of growth for China's grain output. This is a welcomed surprise. But the question is—how do we sustain the growth in the future? And second, 2011 has also seen a dramatic increase in farmers' income. And again, how do we keep the momentum and improve their earnings year by year? So this puts enormous demand and challenges upon policy makers. Experts say that the ultimate solution for these two questions lies in technology to improve the per unit yield. In the past, China's growth in grain output has been largely driven by government initiated incentives and favorable policies. But in the long run, agricultural development ultimately depends on sophisticated technologies, because China has a large population with limited land resources. And if you factor in natural disasters and extreme weather patterns, ensuring bumper harvests is no easy task. And that is why this year, China's leaders put promoting agricultural technology and innovation high on the agenda, so that the growth in grain output and farmers' income can be sustainable.
Q2: You also mentioned some challenges facing China's rural development; can you elaborate more on that?
A2: Well, one of the major challenges is environmental. Currently China's agricultural sector uses large quantities of pesticide and fertilizer, which cause serious pollution problems. But with technology advancement and innovation, we can reduce our reliance on these chemicals. We can also use green fertilizers to bring down pollution. The second challenge is regarding the agricultural system itself. At present, research and development of China's agriculture are mainly undertaken by local academies of agriculture science, seed companies, and agriculture universities. But these institutions have their separate research focus and management, so synergy is hard to come by. Meanwhile, currently China has some 20 national level agricultural technology programs, which also come under different central ministries. This makes it difficult to ensure a coordinated plan for future development. Furthermore, there are some 3,000 new technologies registered every year. But only 40% are industrialized. Less than 30% achieve relatively large scale operation, which is far less than developed countries. So it's hoped that the government can increase its input in the sector and refine the industry system to make for future growth.
Related stories
Editor:Zhang Dan |Source: CNTV.CN