Watch Video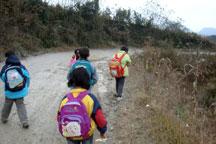 Play Video
For those who live in rural areas of China, safety of school buses has become a key concern. But for those school children who live in remote mountain areas, reaching school is a challenge in itself. The road is often paved with risks. And sometimes, the journey can take hours. CCTV reporter Shi Wenjing takes a look at an elementary school in southwest China's Sichuan Province.
With only fifteen students in total, Sha Wan Village elementary school is the remotest school in town. As the youngest student there, Wei Lijie must trek a long distance on tough roads to get to school everyday.
Getting up at the first gleam of dawn, this is how little Wei and his mother starts their day. Though they're familiar with the route, the slippery conditions can make the journey hazardous.
A villager said, "The road is very difficult to walk on. Adults in this village are on duty every week to take care of these kids."
When it comes to the weather like this, reaching school takes double the time. But little Wei never complains.
55-year-old Wu Wanyin is the only teacher there. She's also preoccupied with taking care of the children.
Wu Wanyin, a teacher in Sha Wan Village elementary school, said, "We don't have a heating system. So I came up with an idea to use glass bottles. "
"Come here to collect hot water bottles."
But despite such circumstances, the students have never been absent from classes, nor has any school days been suspended. Fortunately, the local government has provided heating devices this winter, and the students can finally have a warm environment to learn in.
The road leading to school is muddy and slippery, but it cannot stop their pursuit of knowledge.
Related stories
Editor:Zhang Dan |Source: CNTV.CN