Watch Video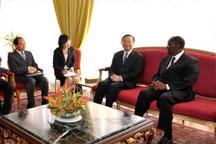 Play Video
Cote d'Ivoire President Alassane Ouattara has held talks with visiting Chinese Foreign Minister Yang Jiechi on bilateral relations.
Ouattara says Cote d'Ivoire attaches great importance to the role China has played in international and regional affairs, and appreciates the firm support China has offered to Cote d'Ivoire in its national reconciliation and economic restoration.Yang said China would like to join hands with Cote d'Ivoire to boost high-level exchanges and political trust, expand pragmatic cooperation in economic, trade and other fields, and enrich people-to-people exchanges.
Chinese Foreign Minister Yang Jiechi arrived at Cote d'Ivoire Tuesday for a six-day tour of three African countries. He will later head to Niger and Namibia.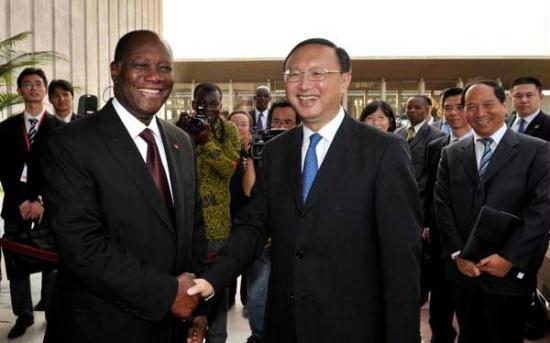 Cote d'Ivoire's President Alassane Ouattara (L, Front) meets with China's Foreign Minister Yang Jiechi (R, Front) in Abidjan, Cote d'Ivoire, on Jan. 3, 2012. (Xinhua/Zhao Yingquan)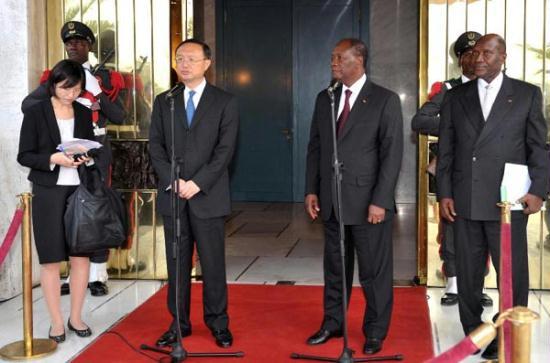 Cote d'Ivoire's President Alassane Ouattara (2nd R, Front) meets with China's Foreign Minister Yang Jiechi (2nd L, Front) in Abidjan, Cote d'Ivoire, on Jan. 3, 2012. (Xinhua/Zhao Yingquan)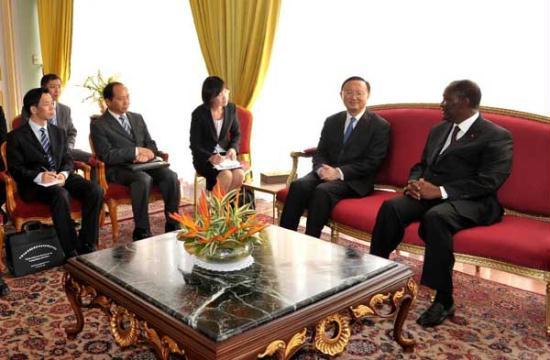 Cote d'Ivoire's President Alassane Ouattara (1st, R) meets with China's Foreign Minister Yang Jiechi (2nd, R) in Abidjan, Cote d'Ivoire, on Jan. 3, 2012. (Xinhua/Zhao Yingquan)
Related stories
Editor:Zhang Jingya |Source: CNTV.CN