Watch Video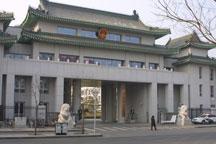 Play Video
Corruption and other illegal activities have long been seen as major threats to China's ruling party. In 2011, almost 5, 000 officials were punished for various offences.
From the forefront of the political stage to behind bars, this was the country's most high-profile Party disciplinary case in 2011.
According to the CPC Central Commission for Discipline Inspection, more than 4,800 officials at county level or above were punished last year. Some occupied surprisingly low positions.
Li Huabo was a unit chief in charge of "economic construction" at the Finance Bureau in Boyang, a national poverty county in Jiangxi province. By forging official seals, he embezzled almost 100 million yuan of government funds, and was not caught, until he called from Canada to confess his crime.
Lv Qinghai, the former mayor of Luohe in central China's Henan province, was the most ironic public servant to step down. He took office on July 9th, pledging to lead a "clean and efficient" government. Only 48 days later, Lv was detained for corruption and embezzlement.
The disciplinary commission has strived to bring these criminals to justice.
It's set up this exhibition to send a strong signal not only to Communist party members, but also to the general public, which often see officials not as public servants, but as profiteers, abusing power for personal gain.
In 2011, nearly seven hundred and eighty officials at county level or above have faced justice for their crimes. Some were executed, others sent to prison.
But it will take more than punishment to boost public confidence.
Related stories
Editor:Zhang Dan |Source: CNTV.CN