Watch Video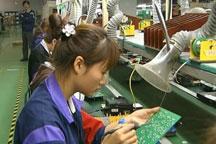 Play Video
Fresh figures from China's official statistics agency show the country's December Consumer Price Index has continued to slow. The main gauge of inflation came in at 4.1 percent year-on-year, a 15-month low. CCTV reporter Yin Hang reports from Beijing.
Some price relief just a week before the traditional Chinese New Year is music to consumers' ears.
December's CPI accelerated 4.1 percent, from November's 4.2 percent - a 15 month low.
However - while non-food prices only rose 1.9 percent in December, food inflation stayed high, climbing 9.1 percent.
Dr. Liu Youfa, Vice President of China Institute of Int'l Studies, said, "Government policies targeting inflation...spring festival supply..."
But analysts say it may be too soon to say the battle against inflation is won. They say price pressures may continue in the medium- to long-term. The rising cost of labour, energy and raw materials could fuel rising prices, while imported inflation could also weigh on China.
Many economists predict prices will rise, by an average of 4 percent in 2012.
"Inflation prediction...property sector..." Dr Liu said.
The Producer Price Index, the gauge of factory prices, was up 1.7 percent year-on-year in December. That' down from November's 2.7 percent. Analysts say that will also help ease inflationary pressures.
As China's CPI has fallen over recent months, many expect the central bank to ease its monetary policy to boost economic growth.
Editor:Zheng Limin |Source: CNTV.CN