Watch Video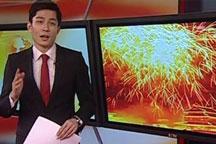 Play Video
For more on the firework celebrations, we are joined in the studio by our reporter Li Kefu.
Q1: For many people this is once-a-year opportunity to have fun with fireworks. Can you tell us where and when we can enjoy fireworks displays this year here in Beijing?
You're right, for many Chinese living in the cities the Spring festival holidays are indeed the only opportunity to legally set-off fireworks all year. Take Beijing for example. In late 2005, Beijing lifted a 13-year ban on fireworks in its downtown area during the Chinese New Year.
By downtown Beijing we generally mean the areas within the fifth Ring Road. But although the ban was lifted, there are still some restrictions. According to the Beijing municipal government, you can only set-off fireworks downtown during a set period: starting from the midnight of Chinese New Year and ending with the Lantern festival, which is on February 6th this year.
On top of this, no fireworks area allowed from midnight till 7 am, except on the day of Chinese New Year itself. Other big cities like Shanghai and Guangzhou have similar rules.
Q2: Do you have any safety tips viewers should be award of when setting off fireworks?
The first thing to remember is to get the fireworks from legitimate retailers. There are now over 1400 legitimate fireworks vendors in Beijing, and 533 are located inside the Fifth Ring Road. Fake fireworks have been a big problem in China over the years, as they can be extremely dangerous.
Every year, there are new tragedies caused by this kind of shoddy merchandise. When setting off fireworks, common sense is key. Always be cautious and be patient while waiting for the rocket to take off.
Also, there is one another thing: watch out for the air quality. It can turn pretty bad very quickly when tens of thousands of fireworks are being set off at the same time.
Editor:Zhang Jingya |Source: CNTV.CN