Watch Video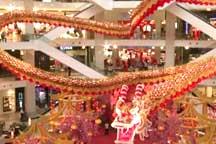 Play Video
Ethnic Chinese make up about a quarter of the Malaysian population. They call themselves "Descendants of the Dragon" and celebrate the New Year in a very traditional way - decorating houses, wearing traditional clothing and making well wishes.
Lion dancers come out on the Melakan streets in force during the Spring Festival. Wendy Gan, 4th generation Malaysia Chinese, said, "In Chinese we believe that it's the culture that the lion dance brings the luck, prosperity, wealth, health so that we ask them to come and they can bring us prosperity."
The Baba-Nyonya of the Melaka straits are the mixed descendants of 15th and 16th century Chinese immigrants. They help ring in the New Year with traditional garb.
Amy, Kebaya shop owner, said, "This is Kebaya Nyonya, and you see the very traditional way, it should have an open size here."
Arjan is a Malaysian Indian, but he has run a shop selling kebaya – a sort of traditional dress - for 50 years. Aziz said he admires the workmanship behind the clothing.
Arjan said, "You can not do much production. It's a very slow process. It's all hand work."
Beaded shoes are also a vital piece of cultural heritage for the Baba Nyonya.
These shoes complete my Nyonya dress. It will take a worker three days to make a pair of these because they're all hand-made.
Malaisya typically sees a baby boom in the year of dragon with new births for ethnic Chinese in the country rising 10%-17%.
Goh Hin San, Malaysian Chinese, said, "Dragon is very auspicious to our Malaysian Chinese, so in the Chinese society in Malaysia , people will take the chance to give birth to some "dragon boys" or "dragon girls"."
And political leaders customarily address their Chinese-descended countrymen with good wishes.
Muhyiddin Yassin, Malaysian deputy Prime Minister, said, "I would like to take this opportunity to wish all our friends in China the very best Chinese new year which I believe it's in year of dragon."
And Prime Minister Najib Razak joined in, attending open houses in conjunction with the New Year - a move that will help him win the support of the Chinese community for the country's coming elections.
Related stories
Editor:Zhang Dan |Source: CNTV.CN