Watch Video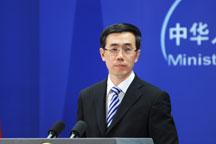 Play Video
A Foreign Ministry Spokesman has confirmed that a Syrian opposition delegation visited China earlier this week.
A low-profile visit, at a critical time.According to spokesman Liu Weimin, a delegation of the National Coordination Body for Democratic Change in Syria, has made a 3-day stop-by in Beijing, and met with Vice Foreign Minister Zhai Juan.
The two sides exchanged views on the current situation in Syria. China reiterated its stance on Syria's ongoing unrest, and urged all sides to resolve the conflict through peaceful negotiation.
Liu Weimin, Spokesman of Chinese Foreign Ministry, said "China is a friend to all Syrian people. It has no self-interest on the Syria issue. China is not favouring either side or deliberately backing anyone. All decisions are made based on the fundemental interest of Syrian people, as well as peace and stability of the middle east region."
He also stated that China is willing to keep contacts with Syrian opposition groups.
Liu Weimin, Spokesman of Chinese Foreign Ministry, said "China has maintained contacts and communication with all parties involved, including the opposition group. We would like to continue such engagement, to solve the Syria crisis."
The delegation praised China for maintaining an upright position on Mideast issues. They also expressed a willingness to increase communication with China.
Earlier this month, China and Russia vetoed the UN draft resolution pressing Syrian President Bashar al-Assad to step down from power.
At the regular press conference Wednesday, China refuted the accusations made by British Foreign Secretary William Hague that Moscow and Beijing have turned their backs on the Arab world. Spokesman Liu Weimin called the British accusations "extremely irresponsible".
Liu also said China is considering sending government officials to Syria in the near future.
Related stories
Editor:Zhang Hao |Source: CNTV.CN