Watch Video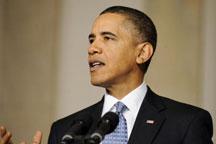 Play Video
The US and China may be heading for more confrontation over a complex range of trade-related disputes. A US court recently ruled against the use of a tariff known as countervailing duties for countries like China which are designated "non-market economies". Separately, a powerful new coalition has been formed in Washington, urging the Obama administration to take action against China in the auto parts sector.
In a case involving two Chinese tyre manufacturers a US appeals court recently ruled that the US can't impose countervailing duties on products from countries designated here in the US as "non-market economies". The US has a separate duty called "anti-dumping" more suitable for countries like China, who currently fall within this trade category.
Derek Scissors, Heritage Foundation, said "The US Commerce Department a couple of years ago made the rather strange decision that it could apply both anti-dumping duties and countervailing duties at the same time on the same good. And what that requires is the Commerce Department at one point to say China is not a market economy and at another point to say China is a market economy. This somewhat defies logic."
Congress may now try to amend the law to allow countervailing duties to be applied as well.Derek Scissors, Heritage Foundation, said "So ideally we'd bring up legislation that handles the Chinese subsidies properly, without engaging in rank hypocrisy. That may not happen because Congress may not want to pay that much attention. Probably they'll just pass something simple, let Commerce, the Department of Commerce go back to doing exactly what it was doing before, even though that doesn't make a lot of sense."
The countervailing duties apply currently to about $5 billion of goods and a new case has just been launched by US manufacturers of steel towers for wind turbines, requesting both kinds of tariffs be applied to Chinese and Vietnamese imports. In addition, if the US doesn't act to remedy its double tariff practice under a separate WTO ruling by the agreed upon deadline of February 25th, then under WTO trade rules China is entitled to retaliation, in order to redress the non-conformity of the United States. Jeffrey Grimson represents Chinese and American exporters and thinks the US position will be counter-productive for US industry, as a whole.
Jeffery Grimson, Trade lawyer, said "I think it's a situation where what goes around comes around on the US export side, with the President wanting to double exports, is going to be more difficult for the US to do that if we take positions that our trading partners think are hypocritical or contradict what we are doing in other countries."
But now a powerful new coalition has been formed, the Alliance for American Manufacturing. It's aim is to put pressure on the White House to negotiate with China over the auto parts sector, alleging that trade violations have eliminated 400,000 jobs and threaten 1.6 million more. The mood is not conducive to compromise.
Jeffery Grimson, Trade lawyer, said "When you see during an election year a President forming a committee to get more aggressive on China, it sounds like we are heading into some rough seas."
The committee he's referring to was announced by President Obama in his recent State of the Union address.
Barack Obama "Tonight, I'm announcing the creation of a Trade Enforcement Unit that will be charged with investigating unfair trade practices in countries like China."
It's expected that this body will be headed by a senior member of the US Cabinet and some anticipate that will be Vice President Joe Biden.
At this early stage it's unclear how this Trade Enforcement Unit will operate and the extent to which major US exporters and retailers will be represented, especially those who's interest it is to see these trade disputes resolved amicably.
Related stories
Editor:Zhang Hao |Source: CNTV.CN