Watch Video
Play Video
29 Chinese nationals who were kidnapped eleven days ago in Sudan, and released on Tuesday, have arrived back in China safely.
The flight, with 29 rescued Chinese workers, finally landed in Beijing at 2:30 pm Thursday.The workers, finally in their homeland again, were greeted by government officials and representitives from their company.
A rescued worker said "My feelings are a mix of joy, excitement and appreciation. Although I haven't seen my family yet, just seeing so many people waiting for us and caring about our safety, I am touched."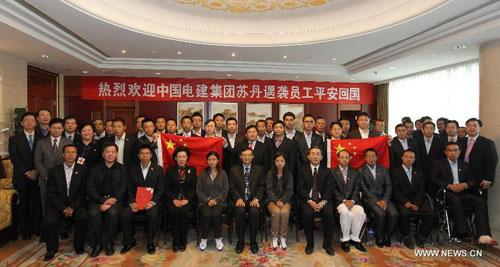 Chinese people who were rescued from abduction in Sudan pose for group photos at
Capital International Airport in Beijing, capital of China, Feb. 9, 2012. A total
of 47 Chinese were caught in the attack, which occurred in a southern Sudanese state
12 days ago. Twenty-nine of them were abducted by the assailants while the other
18 managed to flee. One of the latter went missing and has been confirmed dead.
(Xinhua/Ding Lin)
The 29 workers were held hostage by Sudanese rebels since January 28th. After 11 days in captivity, they were released thanks to the joint efforts of the Chinese and Sudanese governments and the International Committee of the Red Cross.
A resued worker said "Thanks to my home country, China, that made so many efforts to save us."
The Qatar Airlines flight took off from Nairobi at 11:30 pm Beijing time, and connected through Doha, before landing in Beijing.
Officials from the Ministry of Foreign affairs prepared a brief welcoming ceremony for the released workers in a VIP lounge at the airport. The workers are from Sichuan and Shandong provinces, so after the ceremony, they were to rest and wait for domestic flights back to their hometown, where they will reunite with families and friends.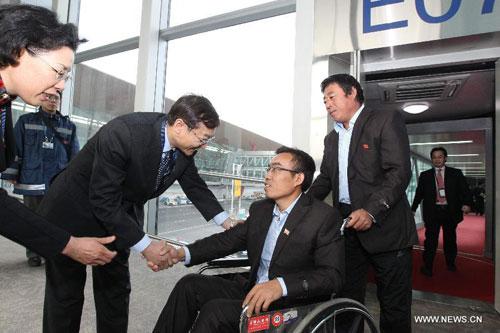 Chinese people who were rescued from abduction in Sudan return to Capital
International Airport in Beijing, capital of China, Feb. 9, 2012. A total of 47
Chinese were caught in the attack, which occurred in a southern Sudanese state 12
days ago. Twenty-nine of them were abducted by the assailants while the other 18
managed to flee. One of the latter went missing and has been confirmed dead.
(Xinhua/Ding Lin)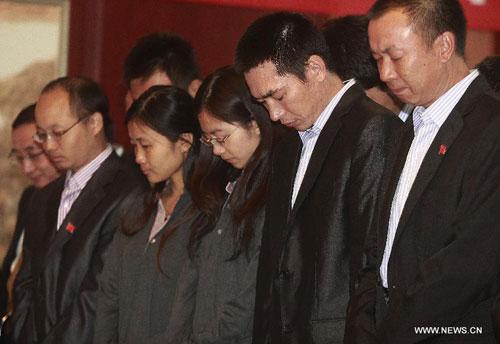 Chinese people who were rescued from abduction in Sudan mourn for the dead colleague
at Capital International Airport in Beijing, capital of China, Feb. 9, 2012. A total
of 47 Chinese were caught in the attack, which occurred in a southern Sudanese state
12 days ago. Twenty-nine of them were abducted by the assailants while the other 18
managed to flee. One of the latter went missing and has been confirmed dead.
(Xinhua/Wan Shen)


Editor:Zhang Hao |Source: CNTV.CN