Watch Video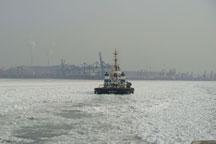 Play Video
Winter brings a spot of trouble for northeastern China's Liaodong Bay. The waters have frozen over, stranding many cargo ships waiting to sail into Yingkou Port, but a fleet of tugboats is clearing the way.
More than half (or is it 90% as it says in the soundbite?) of the 10 thousand square kilometer Liaodong Bay, has frozen over this winter. Yingkou is the busiest port in the region. Everyday, nearly 50 cargo ships dock into the harbor. The icy conditions really frosts over the shipping industry.
In order to make way for the cargo ships to sail in, Yingkou Port and Liaoning Maritime Safety Administration are working together - sending in tugboats to break the ice.
There are about 20 cargo ships stranded in the sea outside Yingkou Port. They have all requested for help to guide them into the harbor. I am now on this tugboat and we are sailing at 5 nautical miles per hour, trying to get there as quickly as possible, to complete this mission.
Moments after the tugboats leave the dock, it runs into more huge chunks of ice. It is not an easy job to carve a way out, even for this 22-hundred horsepower vessel.
Ji Guang, Observer of State Oceanic Administration, said "The ice here is about 10 to 20 centimeters thick. Some areas can reach 25 centimeters."
Wang Sheng, Yingkou Maritime Safety Administration, said "More than 90 percent of the sea in this region is frozen. We need to break the ice into small pieces, so that it enables the cargo ships to sail in and dock into Yingkou port."
Along the way, the team must perform another mission.
Li Dongxu, Vice Captain of Yingkou Maritime Safety Administration, said "This floating ice mark is used in the winter time to guide the cargo boats. It has a solar panel so that it can be illuminated at night. Sometimes strong winds can carry it away, which may poses threat for the ships."
And as noon approaches, the tide begins to ebb away. Wind soars as fast as 18 miles per second. The ice on the sea has accumulated layer on layer, making it thicker than ever. Our tugboat got into a sticky situation.
Wang Sheng, Yingkou Maritime Safety Administration, said"The ebb tide has carried the ice near the coastline further away into the bay. Several tugboats need to work together in order to break the thick ice."
After 3 hours of hard work, the team finally reached the stranded cargo ships. The path is now clear for these ships to sail into Yingkou port, through the waterway we just made. Mission accomplished.
Editor:Zhang Hao |Source: CNTV.CN