Watch Video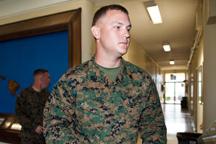 Play Video
A US military jury has declared a Marine sergeant not guilty of hazing a soldier who later committed suicide in Afghanistan. This case has attracted a lot of attention in China as the soldier in question was of Chinese descent. The victim's family has expressed anger and disappointment over the judgement.
One hour: that is all it took for a general court martial to announce their verdict.Sergeant Benjamin Johns was declared not guilty of humiliating and demeaning Lance Corporal Harry Lew.
Lew's family say they are shocked and enraged by the judgement. They fear it will encourage hazing among soldiers. Lew's father told media he is absolutely disappointed and doesn't believe there's any justice in the US army.
Prosecutors alleged Sergeant Benjamin Johns hazed Lance Corporal Harry Lew by ordering him to dig a foxhole as punishment for falling asleep on guard duty at their patrol base in a remote part of Helmand province in Afghanistan.
But the sergeant's attorney told the jury the foxhole was needed to protect the base, which had already suffered multiple Taliban attacks. He explained the task was assigned as a punishment after Lew fell asleep while on watch duty. The defence argued that the punishment was proportionate and relevant to their mission.
Sergeant Benjamin Johns is one of three Marines accused of hazing Lance Corporal Harry Lew in the hours before he fatally shot himself in April of last year.
21-year-old Harry Lew was the nephew of US Representative Judy Chu.
In her own words, she says they "berated him and ordered him to dig a foxhole and to perform push-ups, crunches and planks while wearing his heavy, full body armour and a 25-pound sandbag. They stomped on his back and legs, kicked and punched him and poured the entire contents of a sandbag onto his face and in his mouth."
The punishment lasted more than three hours. Twenty minutes later, Lew shot himself with an automatic weapon. Judy Chu believes the outcome of the court martial sends the wrong message, that the US military tolerates hazing.
Editor:Zhang Hao |Source: CNTV.CN