Watch Video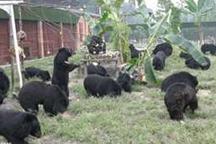 Play Video
A company in Fujian province that makes traditional Chinese medicine from bear bile has again been targeted by animal rights activists. This comes as it makes a second attempt to become publicly listed.
Faced with growing consternation among the educated public, China's traditional medical industry has sought to defend the practice. But as Shi Wenjing finds out, this hasn't reassured critics. The following reports contains graphic imagery.
This bear has just had its bile extracted. Those doing it say it's natural and painless.
Thursday afternoon, the China Association of Traditional Chinese Medicine, or TCM, held a press conference to defend the practice of extracting bear bile. The substance is commonly used in TCM.
The move came after animal welfare groups and members of the public protested against Guizhentang, a pharmaceutical company that manufacturers traditional medicine using bile extracted from living bears.
But the head of the China Association of TCM denies the practice is cruel.
Fang Shuting with China Association of TCM said: "There is a great misunderstanding among the media and the public about the process used to extract bear bile. Cruel practices happened more than 20 years ago. The process nowadays is very easy, natural and painless. After the operation is done, bears can go out and play happily. I think there is nothing unusual, and even quite comfortable."
Fang's statement triggered an uproar on the Internet. Netizens quickly responded that if indeed it was as natural and painless as he claims, then he should offer his bile instead.
Sun Quanhui with World Society for the Protection of Animals said: "Bear bile used to be very scarce, so it wasn't a common medicine. But in recent years, with new techniques, extracting bear bile has becomes much easier. Companies, especially like Guizhentang harvest bile at a large scale. To some extent, it has become maltreatment."
But Guizhentang is fighting back.
They invited our reported to visit the warehouse where the bile is extracted from the bear.
These are the cages where the animals are kept. They can't move, they can't resist.
The bear is given food, and as it eats, a worker quickly sterilized a wound on the bear's belly and inserted a slim drainage tube into it.
The bile is then drips down into a container.
We interviewed Mr. Zhang Xiaohai from the Animals Asia Foundation. He expressed his concern over the treatment of the animals and hygiene conditions in which the bile is harvested.
Zhang said: "This painless method, which builds a channel connecting the bear' abdominal walls and gall bladders through surgery, can also leave bears with non-healing wounds. Those wounds can lead to cancer other severe diseases. Also, if extracting made during the infection stage, it will not only hurt the bear, but bring huge threat to the health of consumers as well."
Awareness of animal cruelty is in its infancy in China, but it's gaining momentum. The question remains, will it come fast enough? Many worry that if this company goes public, it will be an incentive to expand the industry which shall require more and more bears to suffer the same treatment.
Editor:Zhang Rui |Source: CNTV.CN