Watch Video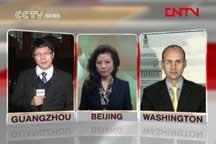 Play Video
The Guangdong High People's Court has concluded hearing an appeal on the iPad trademark. But no verdict has been made. This is the second trial in the case and an appeal of a lower court decision. The verdict will be final under Chinese law. Full Story >>
We have a team covering the issue. Our reporter Liao Ruochen is standing by in Guangzhou and Daniel Ryntjes is in Washington. But let's start first with Liao Ruochen, who has been following the case the whole day. Hello, Ruochen...
Q1: Daniel, Apple says it will cite the mainland's laws instead of Hong Kong's during the trial. What are the considerations here? And how will the change affect the case?
Q2: We understand a decision may take weeks. But what's the likelihood of the case being settled outside of court? Ruochen what have you heard?
Q3: The hearing may come at a crucial time for Apple, as it is expected to soon launch the long-anticipated iPad 3. Daniel, what would the ramifications be if it loses the trial?
Related stories
Editor:Zheng Limin |Source: CNTV.CN