Watch Video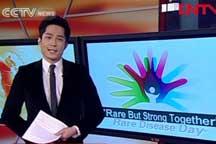 Play Video
February 29th is a rare day on the calendar, but it also marks international Rare Disease Day. On this day, hundreds of patient organizations from more than 40 countries and regions worldwide are organizing awareness-raising activities around the slogan "rare but strong together". Full story >>
For more on Rare Disease Day, we are joined by Li Kefu at the studio.
Q1: Can you give us more background on Rare Disease Day? What is the definition of a "Rare Disease?"
A1: Rare Disease Day is held on the last day of February in order to raise awareness for rare diseases and improve access to treatment for individuals with rare diseases. This year marks the fifth year since the day's establishment in 2008. This year's theme is "Solidarity" and the slogan is "Rare But Strong Together". According to one of the founders of Rare Disease Day, the European Organization for Rare Diseases, there are already many days dedicated to individual diseases such as AIDS and cancer, but there has not been a day for the sufferers of rare diseases. Treatment is often hard or impossible to come by for these sorts of diseases. That's why Rare Disease Day was founded at the first place. So, exactly what is a Rare Disease? Its name pretty much explains itself. A rare disease, also referred to as an orphan disease, is ANY disease that affects a small percentage of the population. The World Health Organization limits the definition to diseases that occur in around 1/10th of a percent of the population. So far there are over 6,000 kinds of rare diseases confirmed and most of them are genetic and will accompany the patients throughout their life times. This is a risk everybody faces from birth.
Q2: What kinds of efforts have been taken in China to battle rare diseases?
A2: According to the China Charity Federation, China has about 10 million patients with various kinds of rare diseases - this number is much higher than the current total number of cancer patients. Among the rare diseases cases, 80% are caused by genetic defects but only 1% of rare diseases have effective treatments. The outlook isn't optimistic in general, but many people have been working hard. The China-Dolls Center for Rare Disorders has been a partner for Rare Disease Day in China since 2009. It has launched several Rare Disease Day Campaigns and has sent petitions to the National People's Congress on rare disease legislation. Although there is no nation-wide legislation on rare diseases yet, Shanghai is attempting to develop a fund and a plan to cover treatment for 12 rare diseases under a program similar to common medical insurance. It's the only city in Chinese mainland involved in such an effort so far and hopefully more cities will join Shanghai on the effort to battle rare diseases.
Editor:Zhang Dan |Source: CNTV.CN