Watch Video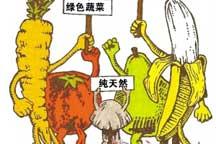 Play Video
A revised regulation aiming to ensure food safety in the organic product industry has been put in place by the government. The Organic Food Authentication Regulation hopes to create a fairer competition arena for organic producers. These regulations focus on benefiting consumers as well as regulating China's organic food industry.
The idea of organic products was only introduced to Chinese consumers in 2005. These eco-friendly products should not contain artificial fertilizers or pesticides and should not be genetically modified. And to ensure this, the government has revised the organic food authentication regulation.
This means the organic produce industry now faces stricter requirements. Professor Meng says the new regulation means higher standards compared to that of previous one.
Prof. Meng Fanqiao, China Agricultural University, said, "Each organic product must have the newly designed identification sticker on it, which is issued by the certification authority. Consumers can even find product tracking numbers on stickers and search for the complete information on the official website. If any companies violate the regulation, the company will be prohibited from the industry for 5 years."
Currently, there are 23 independent certification authorities in China. Experts say the new regulation will create more competition among food producers. This could lead to consumers being the biggest winners as the new regulation gives more insurance on the safety and authenticity of the product.
Consumers pay higher prices for organic food like these strawberries. And this new law will make sure these shoppers get what they pay for. But despite good intentions, it may bring unforeseen consequences for organic farmers.
Sun Hongwei is the general manager of an organic food production base in eastern Beijing. He says there are pros and cons to the new regulation.
Sun Hongwei, general manager of www. toto.cn, said, "On one hand, all the companies will be playing a fairer game, because the companies that have no integrity and do not produce authentic organic food will be prohibited from the industry.
But on the other hand, the new regulation increases the registration fee and the frequency of checking the authenticity of the product. So, costs will rise, that's for sure."
Under the new regulation, will the potentially higher costs and lower returns be a rising concern for organic producers in the long run? Experts say that since it is taking a while for the organic food industry to enter the mainstream, the new practice should help the industry grow and encourage healthy competition among producers. So this new regulation should hopefully bring a bright future for the organic produce industry and its customers.
Related stories
Editor:Zhang Dan |Source: CNTV.CN