Watch Video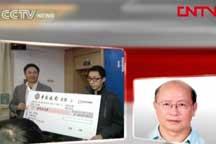 Play Video
A 22-year-old undergraduate, majoring in applied mathematics, has became a researcher at Central South University, in Changsha, Hunan province after breaking a math equation that went unsolved for more than 20 years. Full story >>
For more on the issue, we're joined on the phone by Liu Shinan, a senior columnist from China Daily.
Q1: How significant do you think this appointment is, considering the age of the math prodigy and what he has accomplished?
Q2: What do you think are some other expectations the university is hoping to achieve with this high profile appointment?
Editor:Zhang Dan |Source: CNTV.CN