Watch Video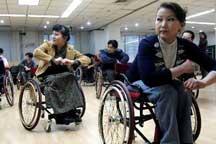 Play Video
There is a group of dancers from Beijing who are showing that people living with physical disabilities can still put on a great show. Known as the Beijing Wheelchair Dance Team, the group hopes to attract new members in order to help people living with physical disabilities live a more confident life.
52 year-old Zhang Zhong has realized his dream of becoming a dancer.
Paralysed by the debilitating disease polio, Zhang took up wheelchair dancing four years ago, when he was attending the paralympic games.
Zhang Zhong, Head of Beijing Wheelchair Dance Team, said, "The dance has made dreams come true for people living with physical difficulties and who love dancing. They can dance with confidence."
Zhang and his friends set up the dance team 3 years ago in Beijing. Local authorities, impressed by their work, granted them free wheelchairs and venues to practise. Professional dancers were even invited to provide lessons.
Cao Guoqiang, Dance Teacher, said, "It is a painstaking process, they have to overcome inconveniences in their body movements."
The group's membership has grown to over 30 people during the past three years.
Pang Dan, Member of Beijing Wheelchair Dance Team, said, "I came from the northwestern region to learn the dance, I want to stick to my dream and move on."
Zhang has big plans for the future. He has established a company that produces dance-oriented wheelchairs, which will make it easier for disabled people to learn the dance.
"Wheelchair dancing is a new thing in China, we hope it can be known by more people." Zhang said.
Zhang hopes that the wheelchair dance will not only get disabled people out of the home, but to also give them the courage and confidence to live a normal life.
Editor:Zheng Limin |Source: CNTV.CN