Watch Video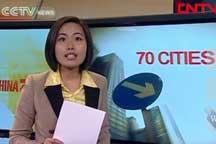 Play Video
The quarterly real estate expo has been held in Beijing. The four-day property fair kicked off as housing prices in some major cities throughout China experience a rebound after tightened government policies on housing prices took effect in January last year. Full story >>
For more on the property expo, we're now joined in the studio by our reporter Ai Yang.
Q1. You said government policies have helped bring down real estate prices, but surely people would like to wait for the prices to go down even further before buying. Why are we already seeing a surge in home purchases?
A1. Yes we may indeed have some mixed messages here. The good news is that, according to the National Bureau of Statistics, house prices in the country's 70 large and medium-sized cities are declining, but so far the decline has not been as much as expected. Take Shanghai as an example: its new home prices fell to a bit more than 19,800 yuan per square meter in February. Well this is the first time since August 2010 that the city's housing prices have dropped below 20,000 yuan, and that marginal change should be enough to see sales in Shanghai surge, especially for low-to-mid cost housing. In that month, the amount of floor space sold rose nearly 90 percent from the previous month to reach a little more than 400 thousand square meters. Similarly, Beijing and other major cities have all witnessed robust rebounds in home sales in the past one or two months. One reason being people are worried that the current tightened real estate regulations will not last as long as they wish, while one expert I talked to at the expo also told me another reason for the surge may be that people had already held back from purchases waiting for further market adjustments especially over last winter, and now they feel it's the right time to plunge in.
Q2. Well it sounds like more and more people are confident in the current housing market, so from what you've seen at the expo, are people making purchases?
A2. Well not exactly. Although the visitors I talked to said they're quite happy to see house prices fall, the general feeling is that the drop is far from enough. In fact quite a few people were just there at the expo trying to figure out how the market is trending and hope they can wait for even lower prices in the coming months. Although like I said before, figures show a rise in purchases, this may have something to do with covering slow demand from last winter, so the surge may not necessarily last through the coming months. On the other hand, many Beijing real estates properties on show at the expo this time are actually the same ones from the previous expo in autumn of last year, only with varying degrees of discounts. This of course will make new buyers very happy, but those who purchased similar properties only one season ago may not be as cheerful, as the value of their houses has shrunk. In fact the same thing is also happening in many other cities as developers boost sales by offering big discounts.
Related stories
Editor:Zhang Dan |Source: CNTV.CN