Watch Video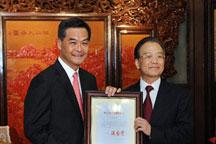 Play Video
Premier Wen Jiabao has met with the chief executive-elect of the Hong Kong S.A.R, Leung Chun-ying, in Beijing.
The Premier presented Leung with his certificate of appointment, following Tuesday's talks. Wen says the next five years is crucial for Hong Kong's development, with its economy facing a series of challenges. He urged Leung's new government to prioritize economic development and improve people's living standards. Wen says the central government will provide strong support to Hong Kong and continue policies to strengthen cooperation with the mainland.
58-year-old Leung was elected the fourth-term chief executive on March 25th, and formally appointed by the State Council on March 28th.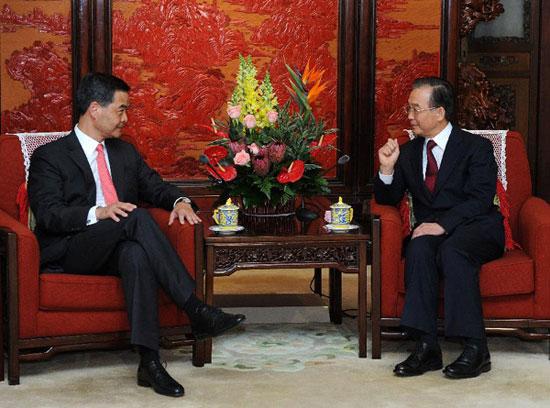 Chinese Premier Wen Jiabao (R) talks with Leung Chun-ying after he awarded the
instrument of appointment as the fourth-term Chief Executive of Hong Kong
Special Administrative Region (HKSAR) to Leung in Beijing, capital of China,
April 10, 2012. (Xinhua/Liu Jiansheng)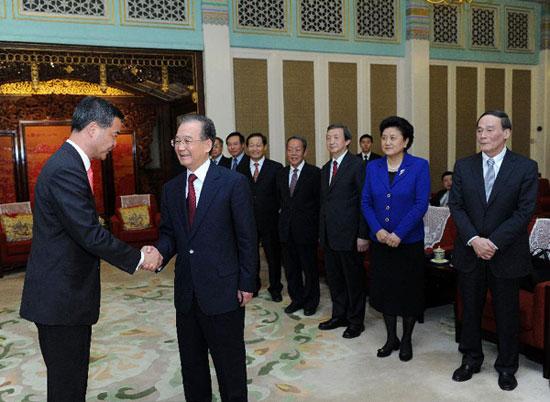 Chinese Premier Wen Jiabao (2nd L) shakes hands with Leung Chun-ying (1st L) before
he awards the instrument of appointment as the fourth-term Chief Executive of Hong
Kong Special Administrative Region (HKSAR) to Leung in Beijing, capital of China,
April 10, 2012. (Xinhua/Liu Jiansheng)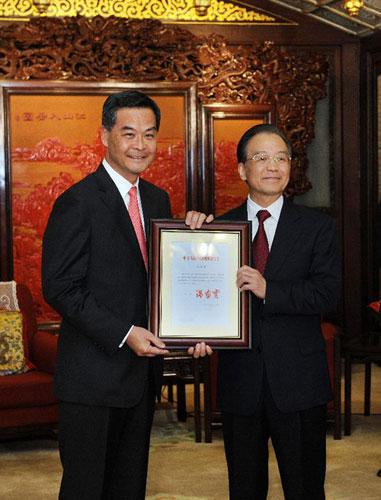 Chinese Premier Wen Jiabao (R) awards the instrument of
appointment as the fourth-term Chief Executive of Hong
Kong Special Administrative Region (HKSAR) to Leung
Chun-ying in Beijing, capital of China, April 10, 2012.
(Xinhua/Liu Jiansheng)
Editor:Bai Yang |Source: CNTV.CN