Watch Video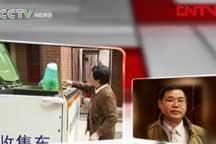 Play Video
In Guangzhou city in south China's Guangdong Province, the garbage generated by the city has hit a 7 percent year-on-year increase, almost at the same pace with the city's rising GDP. Full story >>
For more analysis on the issue, we are joined on the line by Pan Jiahua. He's the Director of the Research Center for Urban and Environmental Studies at the Chinese Academy of Social Sciences.
Q1: We've just heard that migrant workers in Guangzhou don't know much about recycling. What other problems is the city facing in getting residents to recycle?
Q2: Guangzhou has set a goal of recycling 50 percent of household garbage by 2015. What measures should be taken to achieve that goal?
Editor:Zhang Dan |Source: CNTV.CN