Watch Video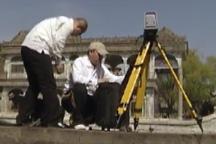 Play Video
China's most famous imperial summer resort, the Summer Palace, will now usher in advanced technologies such as real-time monitoring to collect data as part of its world heritage protection efforts. The palace has been outfitted with a new Monitoring Centre.
Located in Beijing's northwest, the Summer Palace covers more than 300 hectares, including Longevity Hill and Kunming Lake. On Thursday the Summer Palace World Cultural Heritage Monitoring Centre was officially set up in the garden, which was first constructed in 1750 during the Qing Dynasty.
The manager of Summer Palace Kan Yue said, "The Summer Palace may not be famous for its relatively short history, but it possesses the cream of ancient Chinese architecture styles, and it's the last imperial garden in China's history. A variety of palaces and gardens are built in the area. "
Since 2009, scholars and technicians have been collecting data on the resort's centuries-old buildings using modern technologies, such as electronic mapping systems and 3-dimensional scanning. Now the centre will carry out real-time monitoring over almost every aspect of the garden such as its natural and artificial environments, even micro-organisms in the lake water and soil.
Zhang Long, researcher of Summer Palace said, "3D scanning really saves a lot of time because it's much more convenient."
Besides the ancient buildings and gardens, the Summer Palace also possesses a collection of about 40,000 cultural relics. The launch of the new monitoring centre is seen as the latest move to promote the protection of cultural heritage in a scientific way.
Related stories
Editor:Shi Jierui |Source: CNTV