Watch Video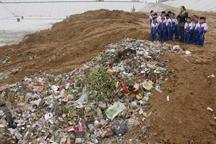 Play Video
Feng Shibo is a sanitation worker in Beijing. Like tens of thousand of his fellow workers in the city, he has noticed the heavy increase in household waste in recent years.
Feng Shibo said, "Bread, sandwich, fish...they are obviously untouched, people are far too wasteful." Feng works in a sanitation service centre responsible for collecting garbage from nearly 200 communities. Over 600 tons are disposed every month.
Xing Wu, Beijing sanitation worker, said, "Food has been dumped wasted, they could have been eaten. I'm shocked."
Although the local government is expanding its waste processing capacity, workers are still surprised by how fast the city's garbage is building up.
Ma Yutao, Beijing sanitation worker, said, "It is not like ten years ago, when people were thriftier and cherished food." This is one of the 30 garbage landfills in Beijing, seeing nearly 20,000 tons of household waste dumped each day.
Wang Weiping, chief engineer of Beijing urban management committee, said, "It's already large in scale. Those mounds of soil are packed with garbage. But it is going to have to close as the whole place will be filled up ahead of the schedule."
Food waste -- a by-product of prosperity, shows no signs of lagging behind China's fast economic growth. With the improvement in living standards and booming catering industry, Beijing is among hundreds of cities that grapple with these problems.
Related stories
Editor:Zhang Dan |Source: CNTV.CN